Tosohatchee Wildlife Management Area... Central Florida
Eco-biking, Hiking in 30,000 Acre Preserve Near Orlando
Tosohatchee Wildlife Management Area ("WMA") is located east of Orlando, along the St. Johns River near Christmas, FL. Entry is on Taylor Creek Road, between SR 50 and SR 520. Over 20 miles of mostly hard-packed dirt/sand roads are bikeable with wide-tires. Over time, road conditions vary greatly and thus, so do the better sections to bike. The WMA contains over 60 miles of hiking trails (some multi-use), including 10 miles of the Florida National Scenic Trail. Day-use fee applies. (Map link and photos below.)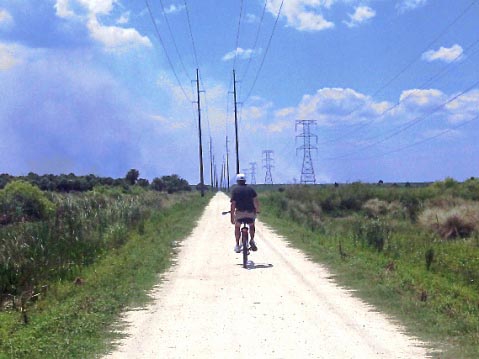 Location: Orange County (Taylor Creek Road, Christmas)
Mileage: 22 miles on dirt roads, more on "multi-use" trails
Surface: Packed dirt, sand
Trailheads: Parking at entry kiosk, St. Johns River at the end of Powerline Road, and at Lake Charlie. Many parking spots along the WMA roads.
Nearby points of interest: Orlando, Cape Canaveral, Cocoa Beach
Bike Shops/Rentals:
N/A
Powerline Road to St. Johns River
Entering off Taylor Creek Road is the daily permit fee station and sign-in. Powerline Road is rideable to the St. Johns River. While the WMA fronts the river for about 19 miles, the only river access is at the end of Powerline Road. We enjoy riding here, but there are more vehicles than on the other roads. During periods of dry weather, passing vehicles can create dust, so best during weekdays. On weekends especially, this can be a popular fishing spot. Boats and airboats (including tours) are common. From road's end, looking across the river to the north is a shelter. Shelters such as this dot the river to provide shelter for boaters during thunderstorms.
Along the St. Johns River: low water (left) and high water (right)
Water levels fluctuate. At very low water, it's possible to bike along the riverbank. Many alligators congregate along the river's edge during low water.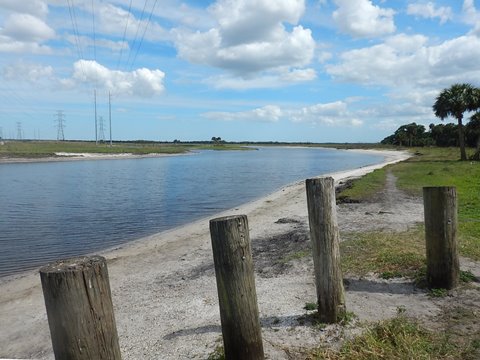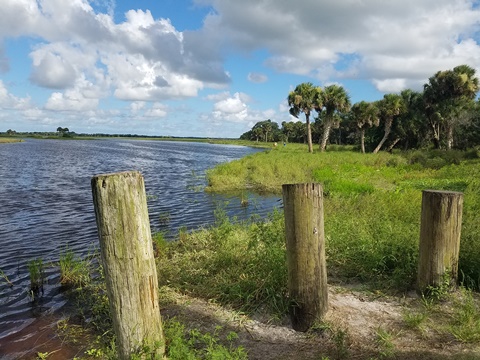 Fish Hole Road and Long Bluff Road
Off Powerline Road, take Fish Hole Road or Long Bluff Road (closer to river) to Lake Charlie. (Either way, it's about 10 miles to complete the triangle-shaped loop - see map). Here, we start along Fish Hole Road to Lake Charlie, and return on Long Bluff Road to the powerline and river.
Several trail crossings and parking areas through this section. Most trails are hiking only but some allow bicycles - see more below. Fish Hole Road crosses Jim Creek, a scenic spot (Parking Area #28). Also along Jim Creek near here is one of the last remaining stands of virgin cypress in Florida. Fish Hole and Long Bluff meet at Charlie Road, which goes under the Beachline (SR 528) and Brightline rail bridges to Lake Charlie. The Brightline rail corridor (Orlando-Miami) runs through Tosohatchee, paralleling SR 528. This has raised concerns from conservationists.
Lake Charlie
Lake Charlie is a man-made lake, created in the 1970's when the nearby Beachline Expressway (SR 528) was built. A popular fishing and birding spot, it includes parking, restroom, picnic tables, covered pavilions, and small fishing pier. Canoes, kayaks, and boats with electric motors are allowed. During dry weather, we always enjoy a stop here.
South Mud Lake Road
Just after going under SR 528 and the Brightline, but before Lake Charlie, South Mud Lake Road goes east, parallel to SR 528 and the Brightline. The road was rideable, but tends to get muddy after rains. In a short distance, it goes past Peek- a-Boo Pond (popular for fishing, non-motorized boats allowed) and ends in about a mile at parking area #24 along the Mud Lake Canal. Here are a picnic table, no other amenities. The gravel road ends here, a grassy path continues but we could see deep mud and did not explore further. There used to be remains of an old bridge here - we didn't see it unless it's further along that grassy path, we'll check again when it's drier.
Florida National Scenic Trail
Parking Area #10
We hiked a portion of the Florida Trail (orange blaze) off Powerline Road from Parking Area #10. The Trail crosses the road, going both ways, north and south. We visited sections in each direction. To the north from the parking area, go around the wooden posts - don't go straight but rather look to the left, an orange blaze marks the entry point into the woods. To the south a wooden bridge crosses a canal. Go over the bridge and follow the orange blazes. The trail to the north was wetter through hammock, some muddy spots and roots. To the south, drier with more pine and oak. Overall, an easy to moderate hike and easy to follow the markers.
More Hiking Trails
We stopped at several other parking areas along the park roads, and visited portions of trails from those points. Some of the wider, grassy trails serve as fire breaks and these are typically open to bikes. Sections of trail can be covered in water at times. We encountered some muddy areas, even after a stretch of dry weather. Experienced Florida hikers will tell you this is often the case, so be prepared. We love to explore, but we're "light hikers" (preferring to bike) and we generally don't go long distances. The photos here are shown as examples of trails throughout the WMA. For more detailed hiking information, check out FloridaHikes.com , a great resource for outdoor lovers.
River Trail
Parking Area #13
Located along the St. Johns River at the end of Powerline Road (Parking Area #13). The trail was mostly overgrown but walkable, with views of the river. Shortly (about 2/10 mile), it came to a culvert. Not feeling like wading across, and not sure if or how far the trail continued beyond, we returned.
Longleaf Loop Trail
Parking Area #25
Continuing past the Lake Charlie trailhead on Lake Charlie Road, we went to Parking Area #25 and the Bumby Camp and Longleaf Loop Trails. The trail (blue blaze) started out pleasant through pine, but quickly got muddy, so we turned back. On a drier day, we might try again - Bumby Camp is the location of an old hunt camp - a chimney, some rusted appliances and other assorted items are remaining artifacts. Continuing on the trail leads to T-Shirt Pond, reportedly good for fishing.
The name comes from the Seminole name "Tootoosahatchee" for the creek (called Chicken Creek by pioneer settlers) along the St. Johns - now called Tosohatchee Creek. Later a cattle ranch and then a private hunting preserve, the 30,000 acre property was acquired by the State in 1977. Part of the Great Florida Birding and Wildlife Trail, Tosohatchee Wildlife Management Area features over 200 bird species. Other wildlife include alligators, Florida black bear, white-tailed deer, bobcats, and more. Habitats include floodplain and swamp, wet and pine flatlands, and hammock. Activities include hiking, biking, horseback riding (prohibited during hunting season), fishing, primitive camping, and hunting.