Tosohatchee Wildlife Management Area... Central Florida
Natural Eco-biking and Hiking Near Orlando
Tosohatchee Wildlife Management Area (WMA) is located along the St. Johns River in Christmas, Florida (east of Orlando). Entry is on Taylor Creek Road, between SR 50 and SR 520. About 22 miles of mostly hard-packed roads within the WMA are bikeable for fat-tire bikes. We found Powerline Road best for biking (on a weekday); Fish Hole Road and Long Bluff Road are also bikeable but with more sandy/rough sections. Mostly sunny, some shade; better as a cool weather ride. About 30,000 acres, the WMA has more than 60 miles of trails, some multi-use, and including 10 miles of the Florida National Scenic Trail. There are many trailheads and trail crossings (some allow bikes, some hiking only), with parking areas marked frequently along the roads. Pay a per person day-use fee at the entrance. (Map link and photos below.)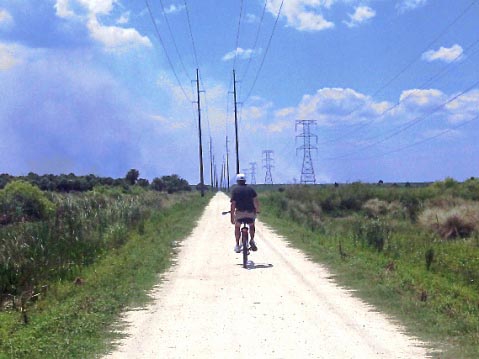 Location: Orange County (Taylor Creek Road, Christmas)
Mileage: 22 miles, plus more on WMA trails
Surface: Crushed stone, packed dirt, sand
Trailheads: Parking at entry kiosk, St. Johns River at the end of Powerline Road, and at Lake Charlie. Parking along the roads at trailheads.
Nearby points of interest: Orlando, Cape Canaveral, Cocoa Beach
Bike Shops/Rentals:
N/A
Support and Advocacy:
Along the St. Johns River: Example of shoreline at low water (left) and high (right)
Water levels can fluctuate. One year at very low water we were able to bike along the riverbank. Many alligators.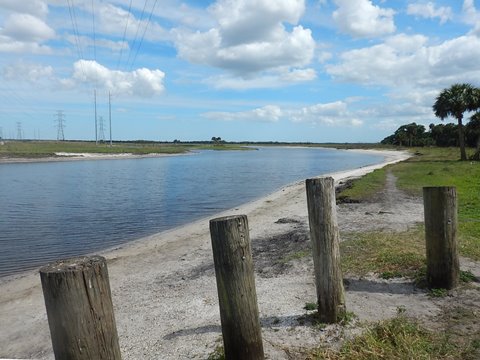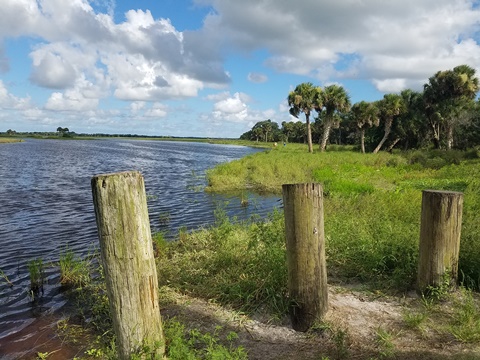 Fish Hole Road / Long Bluff Road
Off Powerline Road, take Fish Hole Road or Long Bluff Road to Lake Charlie (either way, it's a long loop, about 10 miles, back to Powerline - see map). Several trail crossings and trailheads through this section, most trails are hiking only but some allow bicycles - see more below. Fish Hole Road crosses Jim Creek, a scenic spot (Parking Area #28). Also along Jim Creek near here is one of the last remaining stands of virgin cypress in Florida. Fish Hole and Long Bluff intersect where the trail goes under the Beachline (SR528) to Lake Charlie. Note: At this writing (Feb.2021), construction on the Brightline rail corridor between Orlando and Miami is underway. The rail line parallels SR528 through Tosohatchee, this has raised concerns from conservationists.
Here, we start along Fish Hole Road, to Lake Charlie, and return on Long Bluff Road to the powerline and river.
Lake Charlie
Lake Charlie is a man-made lake, created in the 1970's when the nearby Beachline Expressway (SR528) was built. A popular fishing and birding spot, it includes parking, restroom, picnic tables and covered pavilions, and fishing pier. Canoes, kayaks, and boats with electric trolling motors are allowed.
South Mud Lake Road
On Lake Charlie Road just before the SR528 underpass, we were curious about South Mud Lake Road. The road, shared with cars, was rideable. It parallels SR528, past Peek-a-Boo Pond (popular for fishing, non-motorized boats allowed), and ending after about a mile at Parking Area #24 along the Mud Lake Canal. Here are a picnic table, and remains of an old wooden bridge. With no way to proceed, we returned the same way. (Note: These photos were pre-Brightline, there may be changes due to construction.)
Florida National Scenic Trail
Parking Area #10
We hiked a portion of the Florida Trail (orange blaze) off Powerline Road from Parking Area #10. The Trail crosses the road, going both ways, north and south. We visited sections in each direction. To the north from the parking area, go around the wooden posts - don't go straight but rather look to the left, an orange blaze marks the entry point into the woods. To the south a wooden bridge crosses a canal. Go over the bridge and follow the orange blazes. The trail to the north was wetter through hammock, some muddy spots and roots. To the south, drier with more pine and oak. Overall, an easy to moderate hike and easy to follow the markers.
Longleaf Loop Trail
Parking Area #25
Continuing past the Lake Charlie Trailhead on Lake Charlie Road, we went to Parking Area #25 and the Bumby Camp and Longleaf Loop Trails. The trail (blue blaze) started out pleasant through pine, but quickly got muddy so we turned back. On a drier day, we might try again - Bumby Camp is the location of an old hunt camp - a chimney, some rusted appliances and other assorted items are remaining artifacts. Continuing on the trail leads to T-Shirt Pond, good for fishing.
More About Tosohatchee Wildlife Management Area:
The name comes from the Seminole name "Tootoosahatchee" for the creek (called Chicken Creek by pioneer settlers) along the St. Johns - now called Tosohatchee Creek. Later a cattle ranch and then a private hunting preserve, the 30,000 acre property was acquired by the State in 1977. Part of the Great Florida Birding and Wildlife Trail, Tosohatchee Wildlife Management Area features over 200 bird species. Other wildlife include alligators, Florida black bear, white-tailed deer and many others. Habitats include floodplain marsh and swamp, wet and pine flatlands, and hammock. Activities include hiking, biking, horseback riding (prohibited during hunting season), fishing, primitive camping, and hunting.